litio.store
Regular price
€729.90
Sale price
€481.73
Unit price
per
Sale
Sold out
LiFePO4 12.8V 100Ah Series ULTRAS LIM
Ready delivery in 1-4 days.

Offer-33%
Valid until the end of December or while stocks last
Lithium-Iron-Phosphate Abs battery pack
Front poles
With bluetooth connection
14.6V 10A charger included
BATTERY SPECIFICATIONS:
| | |
| --- | --- |
| Nominal tension: | 12.8V |
| Nominal Capacity: | 100Ah |
| Chemistry: | LiFePO4 |
| Cell type: | 100Ah |
| Configuration cells: | 4S-1P |
| Cutoff voltage: | 10.5V - 14.8V |
| Life cycles: | +2500 cycles 80% DOD |
| Maximum Charge Current: | 50A |
| Impulsive discharge current: | 200A |
| Continuous discharge current: | 100A |
| Operating Temperature: | -20°C to 55°C |
| Weight: | 11,5 kg |
| Dimensions (mm) | 395x285x110 mm |
| Nominal energy | 1280Wh |
Condividi
View full details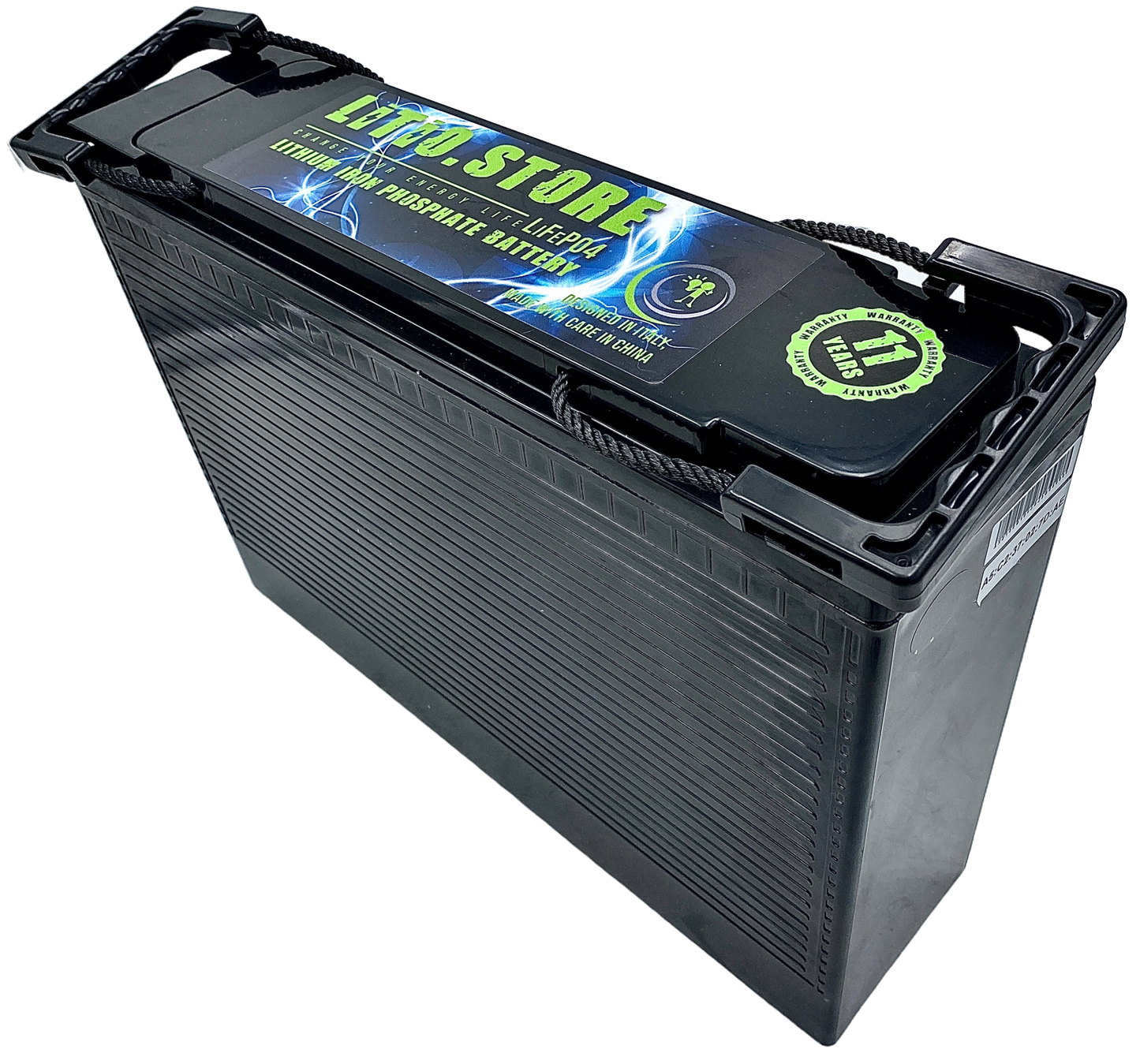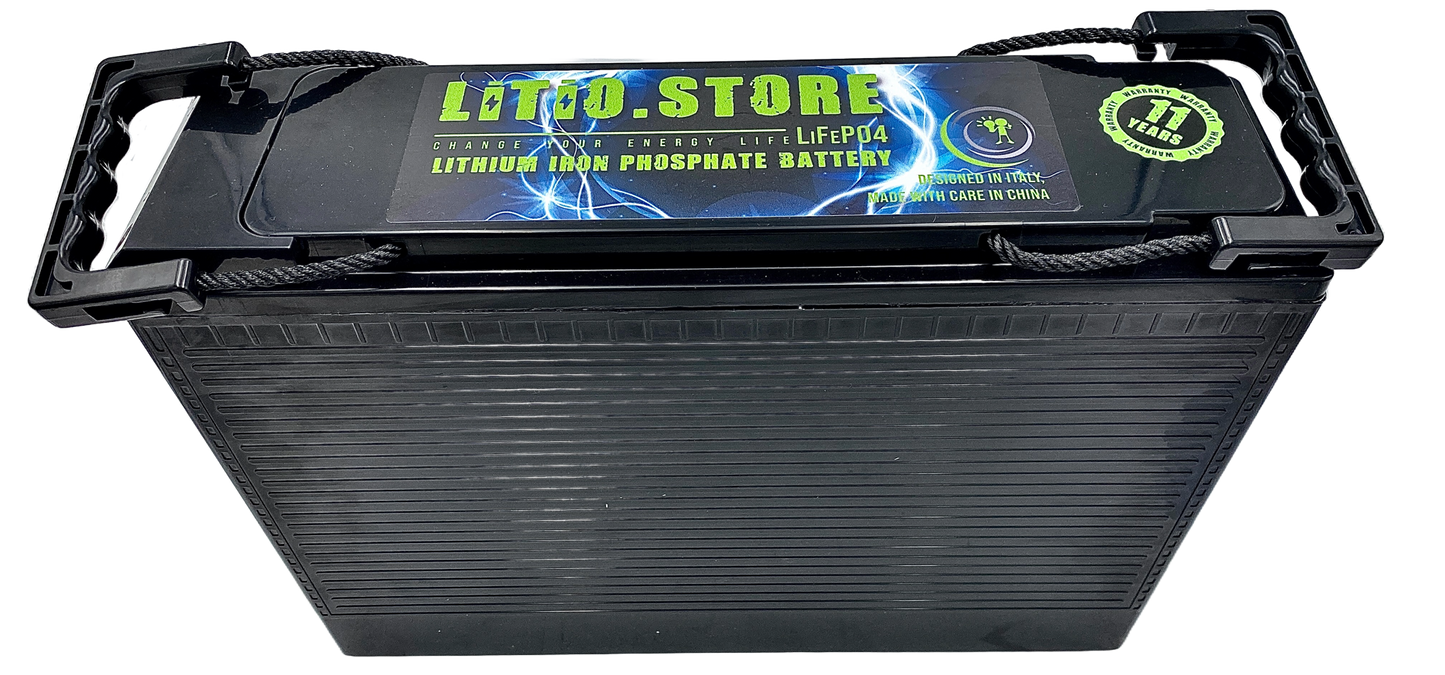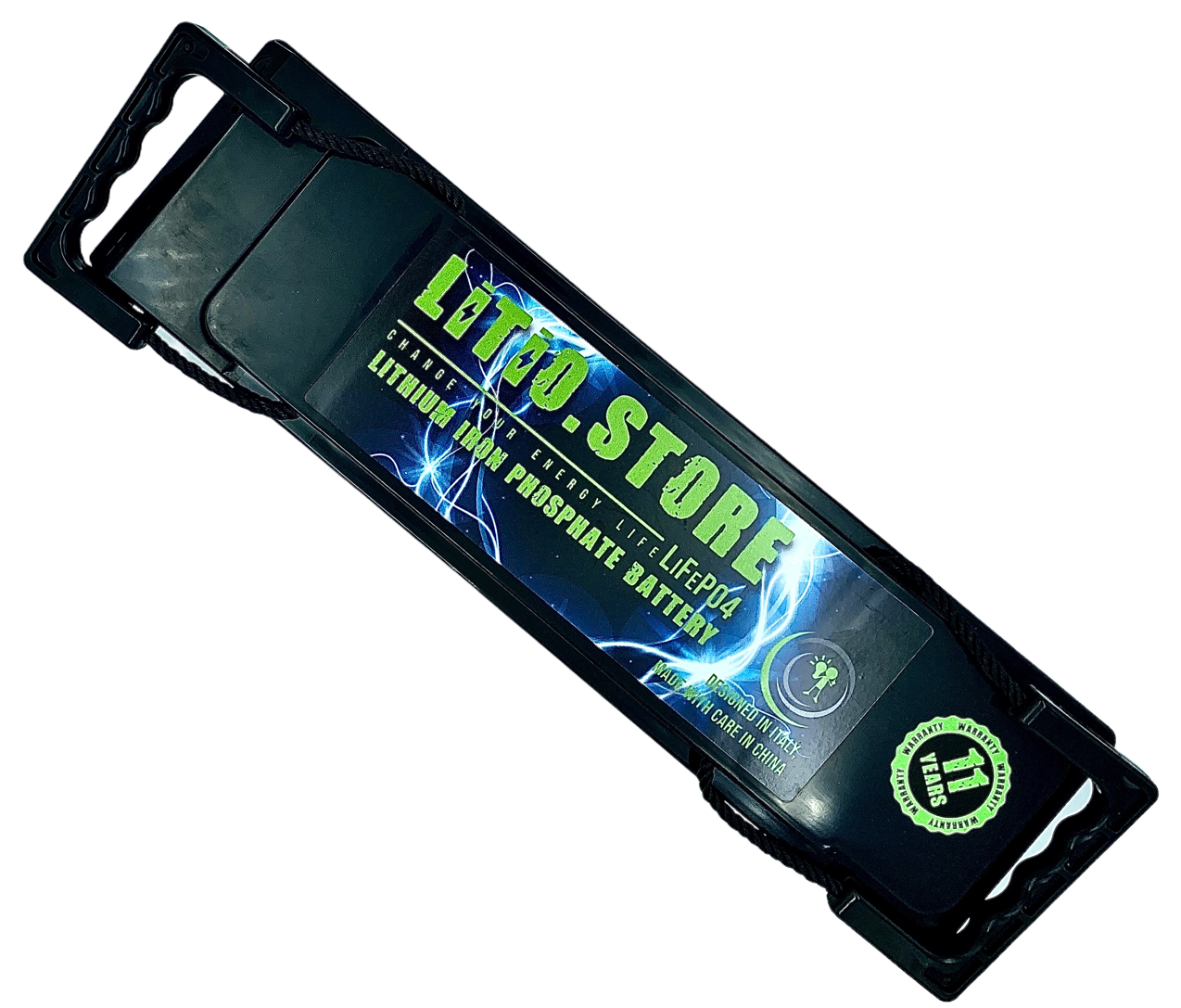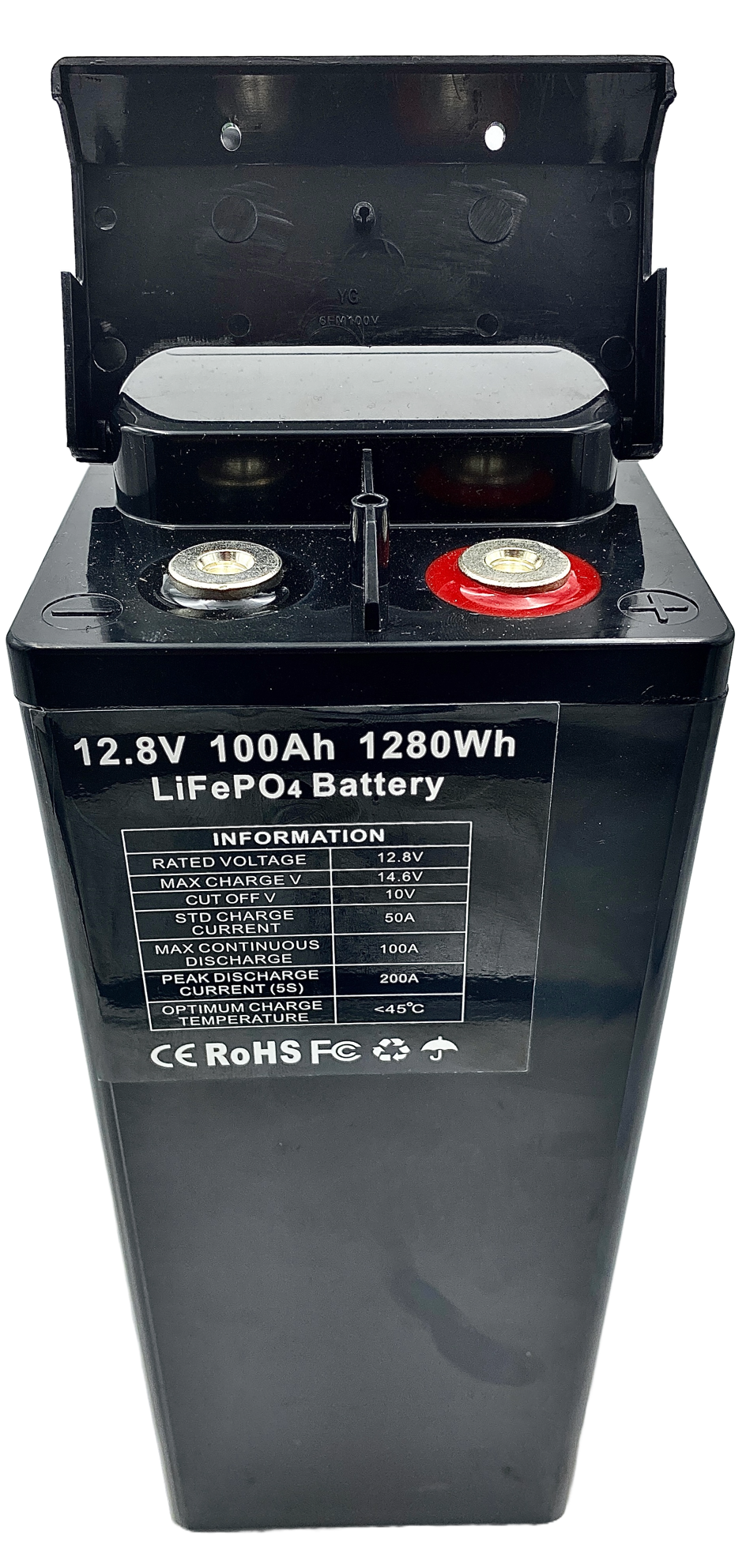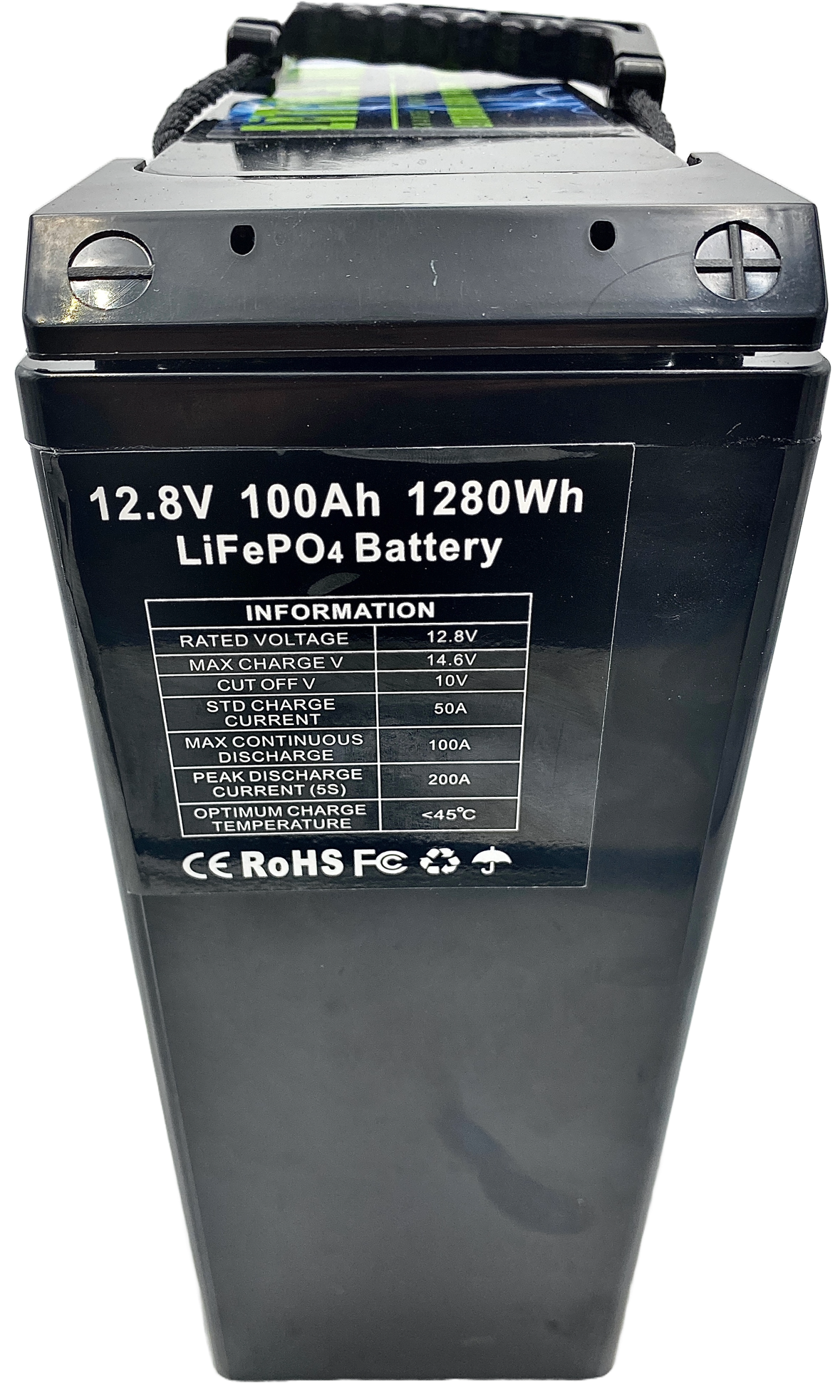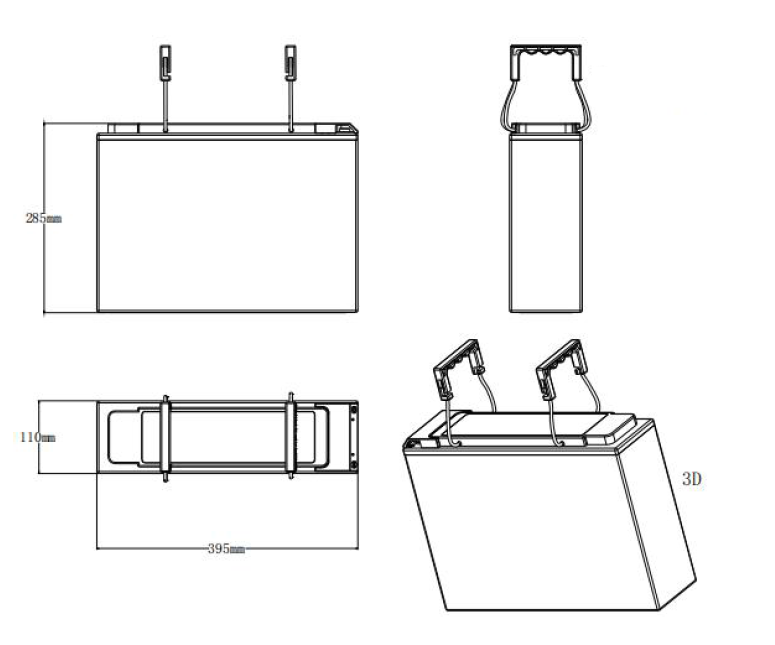 I NOSTRI VANTAGGI
OFFRIAMO I MIGLIORI VANTAGGI AL MONDO!!!
11 ANNI DI GARANZIA

Una garanzia imbattibile!

Puoi contare su di noi a lungo, ci interessa solo avere clienti soddisfatti. Litio.Store c'è sopratutto nel momento del bisogno.

Una garanzia vera, che funziona! Scrivici o chiamaci per qualsiasi problema.

SPEDIZIONE GRATUITA

Offriamo la spedizione gratuita in Italia per ordini superiori a 150€, quindi praticamente per quasi tutte le nostre batterie.

SODDISFATTI o RIMBORSATI

Puoi restituire entro 30 giorni dalla consegna e senza darci alcuna spiegazione.

ESPERIENZA

Vendiamo le nostre batterie LiFePO4 dal 2015 ed abbiamo clienti soddisfatti in tutto il mondo. a differenza degli altri, noi faciamo informazione. Nella sezione BLOG ci sono informazioni che non troverai da nessun'altra parte. Per stare a spasso con i tempi, abbiamo anche aperto un sito dedicato ai supercondensatori.

se hai dubbi, contattaci, qualsiasi sia la tua esigenza, ti consiglieremo nel migliore dei modi.

AZIENDA ITALIANA

Puoi contattarci per qualsiasi informazione tramite la pagina Contatti o chiamaci direttamente al telefono. Puoi anche passare nella nostra sede sede in Umbria.

Puoi trovare tutte le informazioni ed i recapiti anche in fondo alla pagina.

LA BANDA DEL LITIO

Clicca qui sotto per vedere chi sta utilizzando ed onestamente recensendo le nostre batterie.

La banda del Litio
I VANTAGGI DELLE BATTERIE LiFePO4
Le batterie al litio NON sono tutte uguali. Le batterie Litio Ferro Fosfato (LFP o LiFePO4) vengono utilizate oggi anche nelle nostre case perché combinano sicurezza e durabilità.
Durano più a lungo

Hanno ancora l'80% della capacità nominale dopo più di 2000 cicli. Le batterie al piombo solo 300/500 cicli.

100% D.O.D.

100% profondità di scarica (le batterie al piombo solo 30/40%). Una batteria al litio da 50Ah può rimpiazzare una batteria al piombo da 100Ah.

Falso mito: non preoccuparti di scaricarla completamente, non si danneggia subito. Hai un sempre un paio di mesi per ricaricarla.

Sicurezza

BMS integrato. Protezione da corto-circuito, tensione, corrente di carica e scarica, temperatura, bilanciamento automatico. Le batterie LiFePO4 non esplodono e non si incendiano.
Prezzo

Dopo aver rimpiazzato le batterie al piombo una sola volta, avrai già speso più di una batteria al litio. Il costo per KWh per la nostra batteria LiFePO4 è 0.12€, per le batterie al piombo 0,80€. Leggi l'articolo dedicato cliccando qui.

Peso e ingombro

Una batteria al piombo 12V 100Ah pesa oltre 30 kg. La nostra batteria litio-ferro-fosfato 12v 100Ah pesa solamente 11 kg!

Prestazioni elevate

Mantengono una tensione costante sopra i 13V. Questo permette di mantenere a lungo assorbimenti di corrente intensi.

Bassa autoscarica

Senza nessun assorbimento, l'autoscarica è meno del 3% al mese. Al contrario delle batterie al piombo, NON vanno mantenute sempre cariche. Durante i periodi di inattività, scollegare manualmente i cavi dai poli della batterie , oppure utilizzare uno STACCABATTERIE.

Rispetto per l'ambiente

Nessun gas, gel o liquido interno. Non rilascia nell'ambiente nessuna sostanza metallica o tossica.

Manutenzione zero

Non richiedono manutenzione. NON hanno bisogno di periodici cicli di equalizzazione e desolfatazione come le batterie al piombo.
Utilizzare uno staccabatterie.
Altri Vantaggi
Efficienza 99% e bassa resistenza.
Si ricaricano più velocemente.
Nessun effetto memoria: le ricarichi quando vuoi.
Batteria servizi Camper Barche

Puoi utilizzare tutta la capacità della batteria e ricaricarla velocemente.

Ti sentirai più come se fossi a casa tua. Utilizza pure condizionatore, boiler, piastra ad induzione, macchinetta del caffè, asciugacapelli... Puoi alimentare riscaldatore a gasolio, frigorifero, luci e tutte le utenze indispensabili, ricaricare PC, smartphone, e-bike, non sarà più un problema, avrai energia da vendere!

Articoli dedicati:
Quali accessori utilizzare
Quale batteria scegliere
Condizionatori e batterie al litio

Case

Le batterie al litio accettano correnti di carica e scarica molto più alte delle batterie al piombo, sono più sicure e durano molto più a lungo. Nelle case ora si installano quasi solo batterie litio-ferro-fosfato oppure supercondensatori.

Altre applicazioni

Carrelli elevatori, golf-car, go-kart, videosorveglianza e sicurezza, apparecchiature mediche ed elettroniche, dispositivi a controllo remoto; industria e robotica, stazioni di comunicazione e torri radio, illuminazione stradale,+++