litio.store
Regular price
Sale price
€109.90
Unit price
per
Sale
Sold out
LiFePO4 12.8V 12Ah



Delivery in 10-20 days.
ATTENTION:
 

free delivery for total orders

 

(including other products)

 

over €127_5_0127_5_6]. For orders under €150, the shipping cost is €13.
LiFePO4 lithium iron phosphate battery

14.6V 2A charger included 
BATTERY SPECIFICATIONS:
| | |
| --- | --- |
| Nominal tension: | 12.8V |
| Nominal Capacity: | 12Ah |
| Chemistry: | LiFePO4 |
| Cell type: | 3.2V 6Ah |
| Configuration cells: | 4S-2P |
| Cutoff voltage: | 10.5V - 14.8V |
| Life cycles: | +2500 cycles 80% DOD |
| Max charge current: | 6A |
| Discharge pulse current: | 36A |
| Continuous discharge current: | 12A |
| Operating temperature: | -20°C to 55°C |
| Weight: | 1,5 kg |
| Dimensions (mm) | 151x98x95 mm |
| Nominal energy | 153Wh |
 OUR ADVANTAGES 
( WE OFFER THE BEST BENEFITS IN THE WORLD!!! )
11 YEARS warranty
An unbeatable guarantee. You can count on us for a long time, we are only interested in having satisfied customers.
Free shipping over 150 €
Free shipping from €150, VAT included in the price, with no hidden costs.
Free returns
Free return within 30 days of delivery.
Charger included
We send a charger for free with each battery.
Italian company
You can contact us for any information via the page
 

Contacts.


 
The lithium band
Click here
 

to see who is using and honestly reviewing our batteries.

 
THE ADVANTAGES OF LiFePO4 BATTERIES
They last longer
They still have 80% of rated capacity after more than 2000 cycles. Lead batteries only 300/500 cycles.
100% D.O.D.
100% depth of discharge (lead batteries only 30/40%). A 50Ah lithium battery can replace a 100Ah lead acid battery.
Safety
Integrated BMS. Short-circuit protection, voltage, charge and discharge current, temperature, automatic balancing. LiFePO4 batteries do not explode or catch fire.
Price
After replacing lead acid batteries once, you will have already spent more than a lithium battery. The cost per KWh for our LiFePO4 battery is 0.12€, for lead acid batteries 0.80€
Weight and size
A 12V 100Ah lead battery weighs over 30 kg. Our 12v 100Ah lithium-iron-phosphate battery weighs only 11 kg!
High performance
They maintain a constant voltage above 13V. This allows you to maintain intense current absorption for a long time.
 Low self-discharge
Without any absorption, the self-discharge is less than 3% per month. Unlike lead-acid batteries, they should NOT be kept charged at all times. During periods of inactivity, manually disconnect the cables from the battery poles, or use a BATTERY SWITCH.

Respect for the environment
No internal gas, gel or liquid. It does not release any metal or toxic substances into the environment.
Zero maintenance
They require no maintenance. They DO NOT need periodic equalization and desulphation cycles like lead acid batteries.

Use a battery switch.
Other Benefits
99% efficiency and low resistance. They recharge faster.


No memory effect: you top them up whenever you want.
APPLICATIONS
Recreational Vehicles
You can use the full capacity of the battery and recharge it quickly. You will feel more like you are at home. Feel free to use the air conditioner, boiler, induction hob, coffee maker, hair dryer... You can power the diesel heater, refrigerator, lights and all the essential utilities, recharge your PC, smartphone, e-bike, it won't be a problem anymore, you'll have energy for sale!

Dedicated articles:
Which accessories to use .
Boats Electric motors
Infinite accelerations! You can max out until full download. Incredible weight and space savings.
Dedicated article:
 Case
Lithium batteries accept much higher charge and discharge currents than lead-acid batteries, are safer, and last much longer. Homes now have almost only lithium-iron-phosphate batteries or supercapacitors installed.
 Other applications
Forklifts, golf carts, go-karts, video surveillance and security, medical and electronic equipment, remote control devices; industry and robotics, communication stations and radio towers, street lighting,+++
BUSBAR
An important accessory
SAFETY
Busbars are important to the safety of the electrical system.
What's the problem? In the case of batteries, connecting multiple cables to the same battery pole is wrong. The busbars, with 4 M8 terminals, allow each cable to be connected to its terminal. There will be only one cable leaving the busbar, which will end up on the battery pole. In this way the electrical system will be cleaner and safer. Generally two busbars are used, one of which ends up on the negative pole and one on the positive pole of the battery.
Condividi
View full details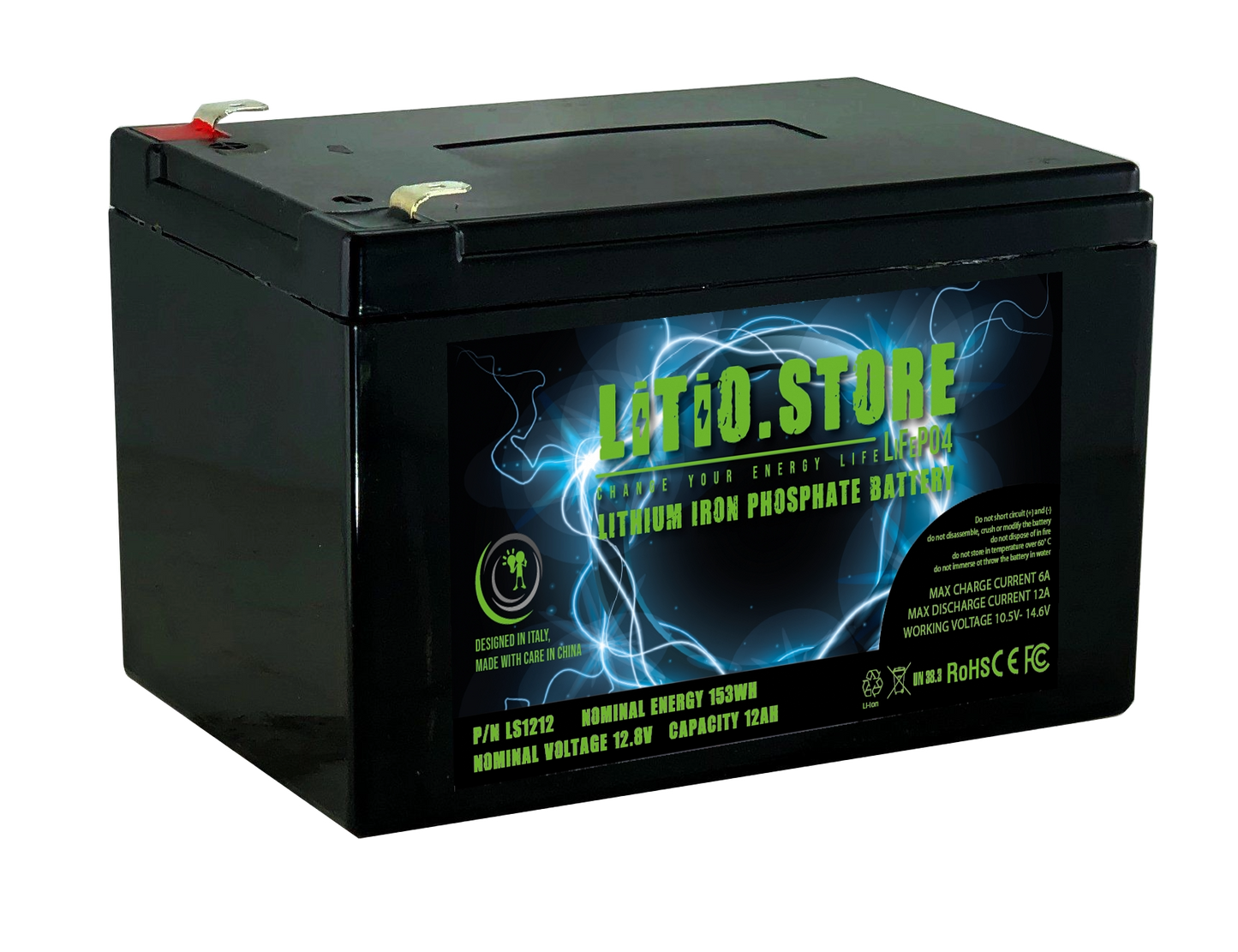 I NOSTRI VANTAGGI
OFFRIAMO I MIGLIORI VANTAGGI AL MONDO!!!
11 ANNI DI GARANZIA

Una garanzia imbattibile!

Puoi contare su di noi a lungo, ci interessa solo avere clienti soddisfatti. Litio.Store c'è sopratutto nel momento del bisogno.

Una garanzia vera, che funziona! Scrivici o chiamaci per qualsiasi problema.

SPEDIZIONE GRATUITA

Offriamo la spedizione gratuita in Italia per ordini superiori a 150€, quindi praticamente per quasi tutte le nostre batterie.

SODDISFATTI o RIMBORSATI

Puoi restituire entro 30 giorni dalla consegna e senza darci alcuna spiegazione.

ESPERIENZA

Vendiamo le nostre batterie LiFePO4 dal 2015 ed abbiamo clienti soddisfatti in tutto il mondo. a differenza degli altri, noi faciamo informazione. Nella sezione BLOG ci sono informazioni che non troverai da nessun'altra parte. Per stare a spasso con i tempi, abbiamo anche aperto un sito dedicato ai supercondensatori.

se hai dubbi, contattaci, qualsiasi sia la tua esigenza, ti consiglieremo nel migliore dei modi.

AZIENDA ITALIANA

Puoi contattarci per qualsiasi informazione tramite la pagina Contatti o chiamaci direttamente al telefono. Puoi anche passare nella nostra sede sede in Umbria.

Puoi trovare tutte le informazioni ed i recapiti anche in fondo alla pagina.

LA BANDA DEL LITIO

Clicca qui sotto per vedere chi sta utilizzando ed onestamente recensendo le nostre batterie.

La banda del Litio
I VANTAGGI DELLE BATTERIE LiFePO4
Le batterie al litio NON sono tutte uguali. Le batterie Litio Ferro Fosfato (LFP o LiFePO4) vengono utilizate oggi anche nelle nostre case perché combinano sicurezza e durabilità.
Durano più a lungo

Hanno ancora l'80% della capacità nominale dopo più di 2000 cicli. Le batterie al piombo solo 300/500 cicli.

100% D.O.D.

100% profondità di scarica (le batterie al piombo solo 30/40%). Una batteria al litio da 50Ah può rimpiazzare una batteria al piombo da 100Ah.

Falso mito: non preoccuparti di scaricarla completamente, non si danneggia subito. Hai un sempre un paio di mesi per ricaricarla.

Sicurezza

BMS integrato. Protezione da corto-circuito, tensione, corrente di carica e scarica, temperatura, bilanciamento automatico. Le batterie LiFePO4 non esplodono e non si incendiano.
Prezzo

Dopo aver rimpiazzato le batterie al piombo una sola volta, avrai già speso più di una batteria al litio. Il costo per KWh per la nostra batteria LiFePO4 è 0.12€, per le batterie al piombo 0,80€. Leggi l'articolo dedicato cliccando qui.

Peso e ingombro

Una batteria al piombo 12V 100Ah pesa oltre 30 kg. La nostra batteria litio-ferro-fosfato 12v 100Ah pesa solamente 11 kg!

Prestazioni elevate

Mantengono una tensione costante sopra i 13V. Questo permette di mantenere a lungo assorbimenti di corrente intensi.

Bassa autoscarica

Senza nessun assorbimento, l'autoscarica è meno del 3% al mese. Al contrario delle batterie al piombo, NON vanno mantenute sempre cariche. Durante i periodi di inattività, scollegare manualmente i cavi dai poli della batterie , oppure utilizzare uno STACCABATTERIE.

Rispetto per l'ambiente

Nessun gas, gel o liquido interno. Non rilascia nell'ambiente nessuna sostanza metallica o tossica.

Manutenzione zero

Non richiedono manutenzione. NON hanno bisogno di periodici cicli di equalizzazione e desolfatazione come le batterie al piombo.
Utilizzare uno staccabatterie.
Altri Vantaggi
Efficienza 99% e bassa resistenza.
Si ricaricano più velocemente.
Nessun effetto memoria: le ricarichi quando vuoi.
Batteria servizi Camper Barche

Puoi utilizzare tutta la capacità della batteria e ricaricarla velocemente.

Ti sentirai più come se fossi a casa tua. Utilizza pure condizionatore, boiler, piastra ad induzione, macchinetta del caffè, asciugacapelli... Puoi alimentare riscaldatore a gasolio, frigorifero, luci e tutte le utenze indispensabili, ricaricare PC, smartphone, e-bike, non sarà più un problema, avrai energia da vendere!

Articoli dedicati:
Quali accessori utilizzare
Quale batteria scegliere
Condizionatori e batterie al litio

Case

Le batterie al litio accettano correnti di carica e scarica molto più alte delle batterie al piombo, sono più sicure e durano molto più a lungo. Nelle case ora si installano quasi solo batterie litio-ferro-fosfato oppure supercondensatori.

Altre applicazioni

Carrelli elevatori, golf-car, go-kart, videosorveglianza e sicurezza, apparecchiature mediche ed elettroniche, dispositivi a controllo remoto; industria e robotica, stazioni di comunicazione e torri radio, illuminazione stradale,+++